December 2018 CS Honors Students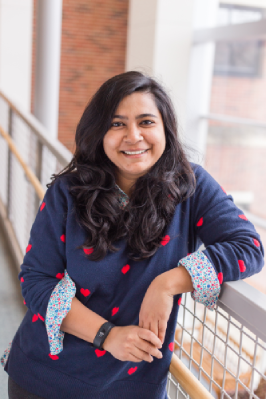 Uzma Ghazanfar
Uzma has been an exceptional student in our CS program these past four years. She is graduating tomorrow with a 4.0 in Applied Computer Science, and that is wonderful. But that is not why she is exceptional. She is exceptional because of the passion she has for learning, the determination she has for figuring things out, and the interest she has in sharing computer science with others.
Uzma is one of five children, originally from Karachi, Pakistan, and she decided to major in computer science after working as a user interface designer for a few years. Sometimes at work a computer science programmer would tell her: "that's not possible" when she asked that something be programmed. She usually didn't agree with this, but she couldn't always win the argument. So …, she went back to school to find out for herself! (Spoiler alert: she was right.)
During her time at WSU, Uzma has worked in the Digital Learning Center, in our department's Software Testing and Development Lab, and as a TA for our CS summer camp. She is chair of the local ACM-W student's chapter. And she is the president and founder of the Women in Computer Science student club. She is always willing to help and has proven to be a wonderful student leader.
Going forward, Uzma's goal for whatever job she ends up in to "bring about positive change in this world and do something meaningful that adds value to the lives of others." We know she will do just that and can't wait to see how this story unfolds!
---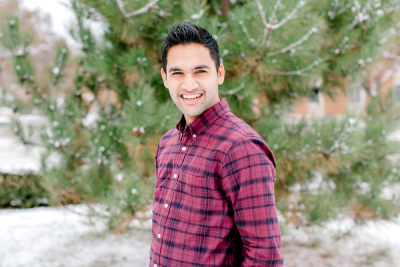 Waheed Khan
Waheed is graduating tomorrow in Computer Science with top honors and as a recipient of the WSU "Leader Improving the World" award in 2017. He comes to us from Karachi, Pakistan, with a stop-over in Toronto, Canada for high school where he first got the idea of majoring in computer science while playing with robots. He is the youngest of five children, and his oldest brother paved the way for him to come to Winona State.
During his time here, Waheed has filled his time with classes, work, and extra-curricular activities. He has worked in WSU's IT Department as a lead student Systems Admin for the past few years, and he worked at Google as an IT Intern this past summer. He served as president of the Computer Science student club, the WSU Cricket Club and the WSU Muslim Student Association. He is also the co-founder for the Winona State Hackathon event, which brings students together from all over campus to spend time on fun (and funny) programming projects.
There is no doubt that Waheed has learned a good deal about computer science. He will start work at Google in the new year as proof of that. But, in his own words, he has also learned that (1) you can "create your own opportunities" and (2) "there is no substitute for perseverance, hard-work, determination and passion for what you do." We feel he has learned his lessons well!